2019 Port Nicholson Regatta Programme
The intended racing programme and onshore programme is described below, and subject to change.
(click to enlarge)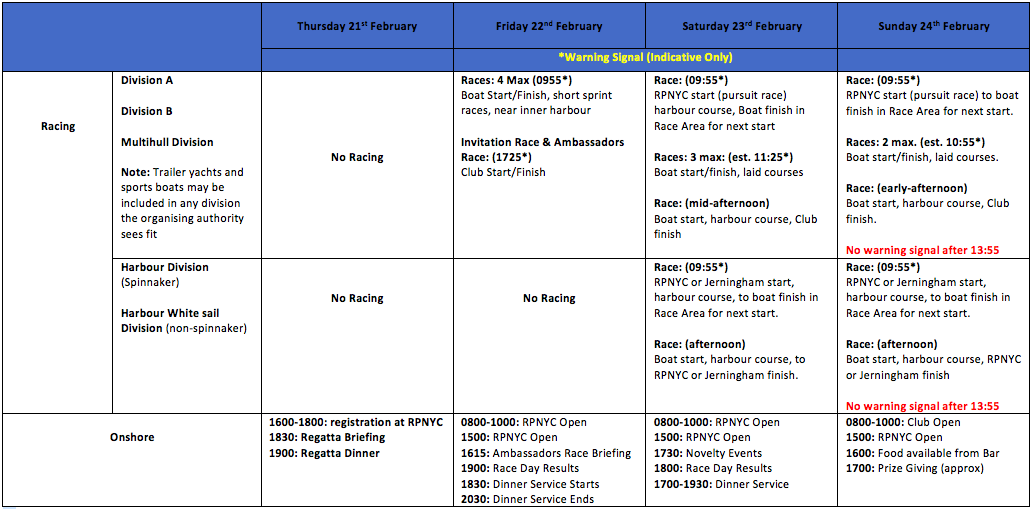 Divisions: The following divisions are intended, with confirmation subject to entries:
Division A – IRC, PHRF, General Handicap
Division B – PHRF, General Handicap
Multihulls – General Handicap
Harbour Division (spinnaker) – General Handicap
White Sails Division (non-spinnaker) – General Handicap
Trailer Yachts and Sports Boats may be included in any appropriate division.
Regatta Racing: Regatta racing will start Friday morning with Div A, Div B, and Multihulls. Harbour and White Sails Divisions will race Saturday and Sunday only. Separate class starts will depend on entries. Different start/finish areas may be used for different divisions. Club starts are contemplated for the first race Saturday and Sunday. Pursuit and/or Mark Foy starts may be used in the Regatta.
Invitation Race: The Regatta will incorporate the traditional RPNYC "Ambassadors Race" with invited dignitaries and sponsors aboard competing yachts racing a short harbour course starting at RPNYC. The warning signal is scheduled for 1725 hours on Friday 22 February 2019. This race will be scored using General Handicap for applicable prizes, including the RPNYC Ambassadors Trophy but it will not be scored as part of the Regatta series.
Prizes: Prizes will be given for first, second, and third in each division on General Handicap, PHRF and/or Class Championship (if applicable). Trophies that are up for contest are:
The Ross Telford Memorial Trophy awarded to the Port Nicholson Regatta Champion
The Roger Land Trophy awarded to the Young 88 Class Champion
Division A PHRF Shield
Division B PHRF Shield
Additional Prizes are being finalised and will include:
Best Visiting Boat
Most Finishes in the Harbour Division and White Sails Division.
Regatta Dinner: The Port Nicholson Regatta will feature a formal dinner for skippers, with a special guest speaker to be announced.
Food & Dinner: Dinner meals will be available for purchase on Friday and Saturday evenings with food available for purchase from the bar on Sunday.
Crew Wanted & Available: We will provide an online 'notice board' for skippers and crew to advertise opportunities from December.
Novelty Events: Following the popularity and ridiculousness of last year's SOUP Race, novelty racing will feature again on Saturday.
Clyde Quay: In addition to the fantastic racing programme RPNYC and Wellington Ocean Sports (next to Freyberg Pool) will make equipment such as Stand Up Paddle boards available for use, in combination with novelty racing for guaranteed post-race amusement!
Marina Berths: Visiting yachts requiring marina berths are encouraged to make enquiries and bookings as
early as possible. See Chaffers Marina for more information.
Contact: Please email regatta@rpnyc.org.nz for more information or any queries.